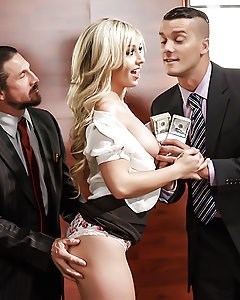 Another day, another set of weak business proposals for the investors on the hit Reality TV show "Time to Prove Yourself" to shoot down. But then Madelyn Monroe arrived to pitch her brand-new invention: a pleasure bud uniquely adapted to please any woman who stuffs it in her pussy. Nothing caught the judges' attention like the moment Madelyn peeled up her skirt and showed off her big thick ass, then slid her new sex toy right up her butt. They were willing to back her, provided she give a hands-on demonstration of her slutty skills, namely how she sucks and fucks cock. Madelyn dropped to her knees to give Tommy and Ramona double blowjob, then straddled a cock while opening her asshole for a rough double penetration fuck that had her begging those boys for every sweet inch of dick they could give!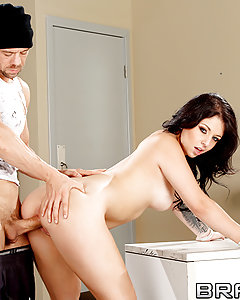 When you see your big chance, you have to grab it with both hands. Homeless dude Erik is chilling in a cafe, when his wildest fantasy Madelyn Monroe walks in the front door. If he wants to bang this rich bitch, he's going to have to think fast and hope he can convince her he's really a Hollywood actor in disguise.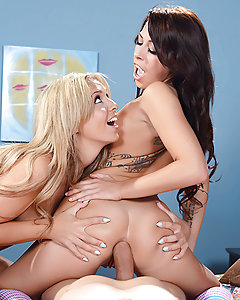 Zoey Monroe wants to let her boyfriend fuck her ass, but her virgin asshole is so tight that she's worried she won't be able to handle it! Lucky for her, her sexy BFF Zoey Monroe is ready and willing to help her prepare for the night of her life! Zoey starts by fucking Madelyn's ass with a dildo, and then her boyfriend Mick Blue comes in to lend a helping hand too. He plunges his cock deep into Zoey's ass, and then Madelyn takes a turn, turning their practice session into one of the most amazing anal threesomes ever!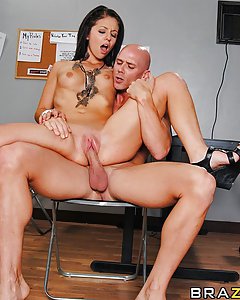 Madelyn is a hell-raising teen who is one fuck up away from getting tossed into the slammer. Her parole office Johnny isn't prepared to take any of her shit. When Madelyn tries to bribe him with sex to get out of community service, Johnny shows her who's boss by jamming his big dick into her little pussy.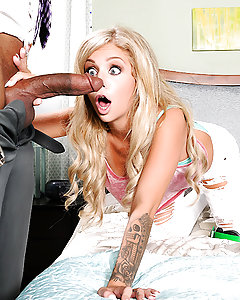 Madelyn's just gotta say what she feels. So when she called out her mom for dating black guys who hump and dump her, she ended up with Jovan paying a private visit to her bedroom to "bond" with her. All Madelyn Monroe wanted to hear though is how many inches he's packing in his pants. When Jovan whipped out his black mamba, this horny teen slut grabbed hold of that cock and dove on it with her cock-hungry mouth. Madelyn spread her legs wide the fuck open to take that cock tip to tail, and ended up closer than ever with her new step-father, and a fat load of cum splattered across her face.