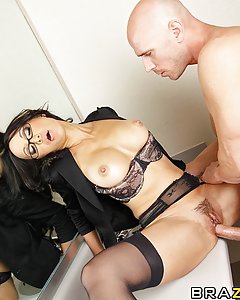 Katsuni is hard at work on "The Bobster File," but is having trouble concentrating on account of her horny boss, Johnny whose insatiable lust for her titanic tits is nothing short of conspicuous. She decides to seek refuge in the women's bathroom for a little masturbatory break. Much to her chagrin, Johnny has followed her inside and catches her in the act of fingering her ham tunnel. Katsuni finally relents to Johnny's advances and the two engage in the timeless art of humping.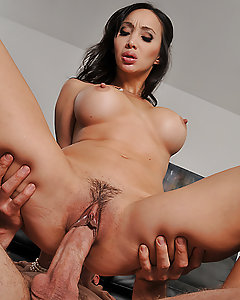 Jordan has a reputation for working his housemaids hard right down to the bone, so when Katsuni hears this she is very interested in filling the position. Katsuni gets the job and busts out her cleaning products and Jordan can't help but get hands-on with this maid's mammaries.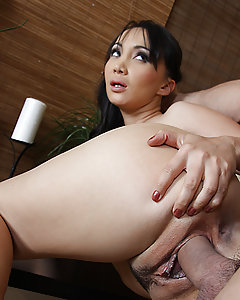 Ramon is seeing Dr. Katsuni to relieve some tension in his body. Her professional acupuncture skills are incredible, but when she hits a special spot in his back and makes his Chi flow into his hard cock, she has no option but to release it on the spot.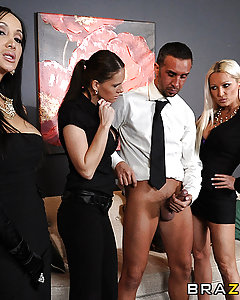 When Keiran is taken away by beautiful russian women, he knows something is up. Everything gets even more confusing when Katsuni comes into the mix. She seems to think Keiran has a big cock, but Keiran keeps telling her she's got the wrong guy. What's going on here? Nobody is who they seem to be...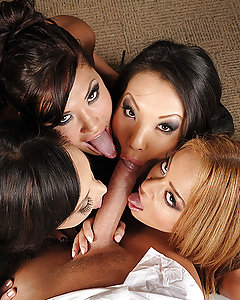 In addition to being a prolific pornstar, Keiran Lee is also a prudent businessman in charge of ZZ Solutions Incorporated. But when here learns that the firm's Southeast Asia office is seeing record low revenues, Keiran's off to Asia to get to the bottom of it. Soon he discovers that the problem is four, sexy, big-titted vixens.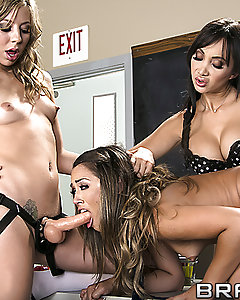 Chastity and Kristina are failing their french class taught by Katsuni. They will do anything to graduate... anything!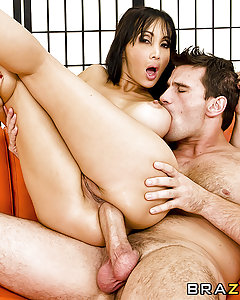 There's trouble on the set of Manuel's latest shoot. Unfortunately the broad he was supposed to bang flaked out leaving him and the rest of the crew fuming. Fortunately for them, a delectable piece of lips, legs, tits and ass by the name of Katsuni arrives on the scene delivering a package. When she's offered $1,000 for an hour of her time (and holes), it's good news for the gang as the shoot is back on!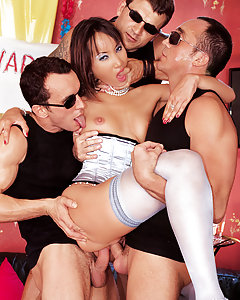 Horny slut Katsumi sucks three dicks and gets brutal fuck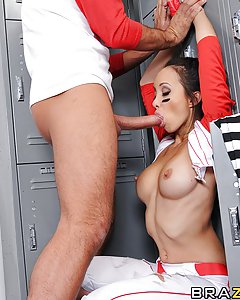 Katsuni, a world famous baseball pitcher, has been on a cold streak lately and her fans are not happy. In a press conference after answering some difficult questions, goes off on a diatribe, berating the fans who have turned on her. Keiran, an extreme fan, takes offence to this and decides to confront Katsuni in her locker room. Cornered, Katsuni thinks quickly on her feet, telling Keiran that she didn't mean "fuck the fans," she meant "fuck the fans," so she is forced to prove it to him what she meant exactly.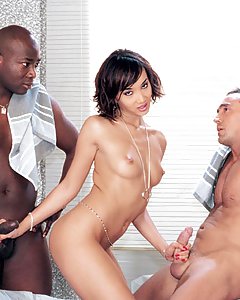 Asian chick gets anal drilled by two hard dicks at a time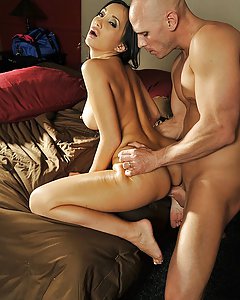 Johnny Sins wakes up one morning to find his extremely fuckilicious wife Katsuni working on his car. After this French femme fatale finishes fiddling around with his gaskets she offers to check under Johnny's "hood."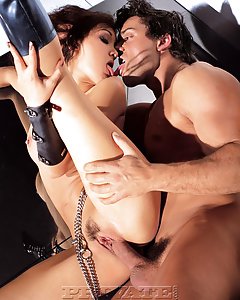 Fetish sex in black lather is a very good idea to spend the night fucking somebody. Plus if the ground works like a mirror then you have double fun. This is how Katsumi decorated her flat, specially for sexual porposes and kinky fun.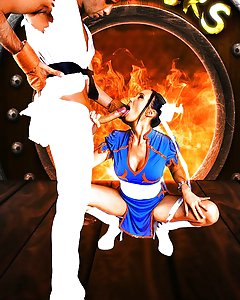 Strap on your bandana and get ready to throw the gauntlet down as Katsumi and Keiran Lee compete in a single tournament to determine the champion of sex fighting. Will it be Katsumi, an experienced fighter who has mastered the biggest cocks in all the land, or Keiran, a street wise sex fighter, undefeated in pussy pounding? Who will emerge as the victor? Press "Start" to continue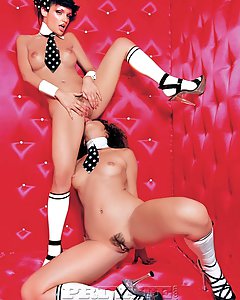 Two sluty face whores in lesbian action can't stop licking