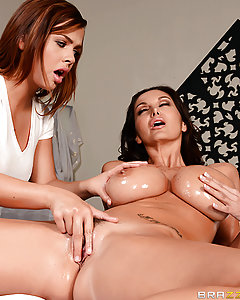 Keisha is caught off guard when her next appointment turns out to be her ex's angry mom, Ava, who has got one hell of a bone to pick with this naughty masseuse. At first Keisha doesn't know what to do as this furious MILF strips down and demands the same treatment she would receive if she was one of her regular johns. "Is that all you got?" Ava asks, when the massage is a little too tender for her taste. Rising to the challenge, Keisha buries her pretty face between those oiled up thighs, and sucks that clit until Ava cums, shaking with pleasure. But these slutty lesbians are nowhere near finished! Ava takes charge, ripping off Keisha's shirt and exposing those big natural tits, then pulling down her panties and fisting her tight asshole, teaching her a lesson about what it means to fuck with her son.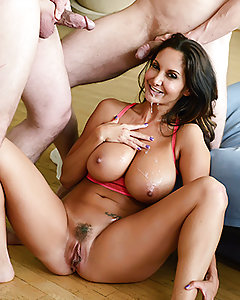 Ava Addams has been fucking her personal trainer Erik behind her husband Bill's back, and every day once they've worked up a nice sweat in the gym, they take it back to Ava's for round two! Erik is balls deep inside Ava's pretty mouth when her husband Bill gets home from work early and wants to get a little pussy for himself! Ava keeps him distracted with her big tits and tight pussy until he has to run back to work. Her husband out of the way, she gets back to business with Erik, riding his cock with abandon, until her husband Bill comes back in and catches her in the act! And what's a husband to do when he catches his wife cheating? Double penetrate that cheating slut, of course!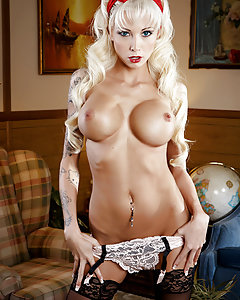 Ava Addams can hardly believe James would bring that teen hussy Rikki Sixx into her home. When she overhears Rikki sucking on his cock, she decided to step in and show that young slut how a pro Milf wets the dick. The lesson builds into a raunchy threesome, as James enjoys both their sweet pussies one after the other. Nothing will ever compare to the awesome sensation of having two mouths sucking on every inch of his dick.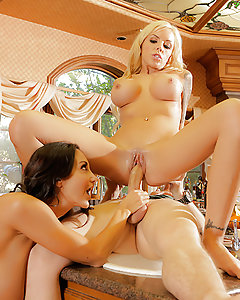 Ava Addams has a horny stepson, Jessy Jones, who just won't listen to her rules. She's tried everything from discipline to bargaining, but nothing seems to get through to him. Fed up of his shenanigans, Ava calls up her best friend Nina Elle, a busty blonde beauty who knows exactly how to deal with horny stepsons. They make the precocious scamp a deal: if he obeys Ava's rules and behaves himself, Ava and Nina will fuck his brains out! First, Nina sucks on his fat cock as he eats out Ava's wet pussy, and then he fucks their big beautiful tits. Once he's done titty fucking them, he buries his dick deep in both of their pink pussies, and then fucks them hard until he's ready to cum all over their pretty faces!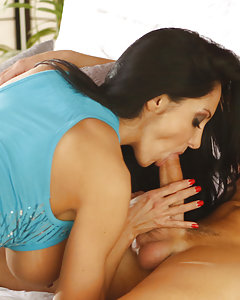 After discovering her stepson, Van is working as an escort for neighborhood friends, a horny mother (Ava Addams) wants to see if he lives up to his reputation.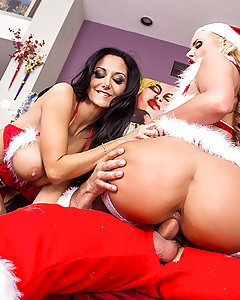 Santa needs a new Mrs. Claus, so one of his elves brought in a couple of big booty sluts named Ava Addams and Phoenix Marie to try out for the part. To prove which one's the best helper, the two busty babes take turns licking each other's pussies and assholes, then suck on Santa's Christmas cock. After that, Santa goes balls deep in both their wet pussies and tight assholes. Once he's done fucking both of their fat asses, it's time for Santa to shoot a hot load of Christmas spirit into Phoenix's mouth for her to share with Ava!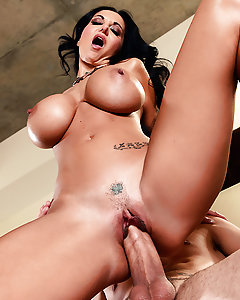 When local jock Max Addams asked the school nerd Tyler Nixon to build him a robot girlfriend, he forgot to account for two things: how much Tyler hated him, and how much Tyler wanted to fuck Max's mom, busty MILF Ava Addams! So Max was more than a little disappointed when the robo-woman he ordered came out looking just like a sexy and slutty version of his mom! Max ran from the house in dismay as Ava started sucking on Tyler's fat dick. Tyler fucked his erotic experiment's juicy jugs, and then went balls deep in her tight wet MILF pussy. Ava's big tits bounced and she moaned with pleasure as she came on his big nerd dick, and then Tyler gave his creation a nice big facial! You know what they say: knowledge is power!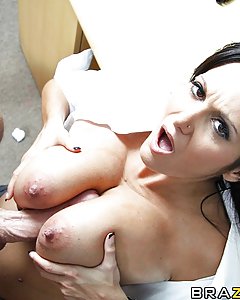 This is a monumental day for Jordan because he has some amazing nude pictures of his astrology teacher. His classmates are blown away by the size of Ms. Adams nipples. They are all quietly observing the pictures in their textbooks during the lesson but when Ms. Adams checks on their progress Jordan isn't fast enough and gets caught with the pictures. Ms. Adams is so flattered that she gives Jordan what he's been fantasizing about all day. Huge tits in his face.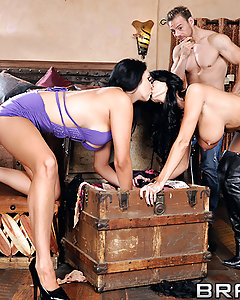 Ava Addams's husband Richie isn't a cheater, but when she found proof he had been visiting mysterious addresses, she just had to know what was really going on. She convinced her best friend Missy Martinez to drive out to the country with her and investigate. All they found out there was a country home for swingers, and a man with the power to give her all the erotic stimulation she'd been missing in her marriage. Ava and Missy put both their mouths on Erik's fat cock, and took turns getting their pussies pounded. Wait until Richie finds out now only did his wife cheat on him, she did it taking a dick balls deep in her sweet Milf ass.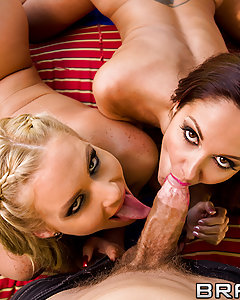 Some guys have all the luck. Erik's somehow managed to juggle dates with the hottest Milfs, Ava Addams and Phoenix Marie, without either one finding out! Until these best friends go sunbathing and start chatting about their bogus boyfriend. Doesn't take long for them to figure out they're being lied to. Erik's in for the surprise of his life when he shows up for a sexy threesome with both of his girlfriends.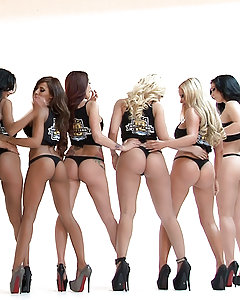 We've got a special treat for you today as we take you behind the scenes of the Brazzers 10th Anniversary photo shoot, featuring a bevvy of your favorite busty and bootylicious babes. We got Ava Addams, Monique Alexander, Nikki Benz, Madison Ivy, Jayden Jaymes, Kortney Kane, Kagney Linn Karter, Mia Malkova, Phoenix Marie, and Rachel Roxxx all together in one place to blow your minds and blow your loads. Join the legion of lovely ladies as they look back at some of their favorite moments from their time with Brazzers, from their first anal or DP scene to how they really feel about shooting with the world's best porn site. There's plenty of footage of some of our hottest moments from the last decade, and all kinds of sexy action as the ladies model some of our awesome Brazzers gear and then strip down to show off their smoking hot bodies. You won't want to miss it!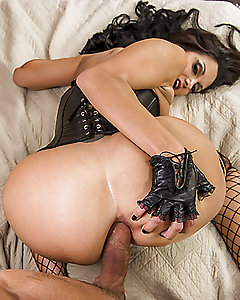 Rough Riders are the craziest, wildest, and most insane high class escorts out there. When you call one of them, you'd better be ready to fuck them hard, OR ELSE!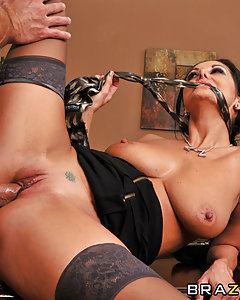 Ava is every male boss' dream. She sends faxes, is a whiz at multitasking and is just dying to suck your cock at the drop of the hat. In today's episode, she lets you in on her horny morning routine and finally has her dreams come true when she lets her boss, Mr. Bailey, relieve his stress by fucking her big tits and tight pussy.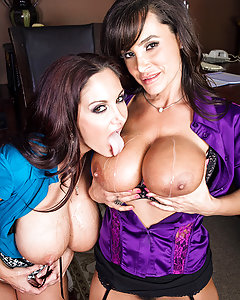 Sonny has just been hired to fix the office security cameras, and he notices the busty Lisa Ann on his monitors right away. He can't resist spying on her luscious bod as she walks around the office, and when Ava catches him the babes decide that the perfect payback is to strip Sonny down and treat him like a piece of meat.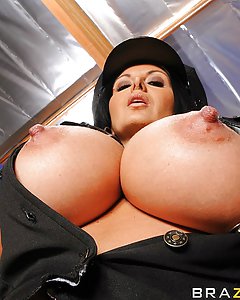 Ava Addams is one corrupt police officer. While visiting a strip club to pick up her monthly "allowance" She gets a little carried away with one of the dancers. Little does she know that Internal Affairs officer Rocco Reed has been tailing her, and he's gonna show her the exact meaning of being a dirty cop.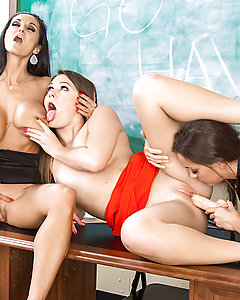 Ava Addams is a slutty teacher who's stuck sitting in study hall watching over all the sexy schoolgirls getting ready for exam season. To pass the time, Miss Addams hikes up her skirt so she can fuck the dildo she hid on her chair while she fantasizes about all of the sexy students that are around. Before long the students are all gone, so Ava calls in her teaching assistant Abby Cross to eat her wet pussy. When sexy student Abigail Mac catches them in the act, Miss Addams offers her straight A's to keep her mouth shut, but it turns out all the slutty schoolgirl wants is to get in on the action! So the three lovely ladies use their wet tongues, delicate fingers, and Ava's big dildo to make sure they all cum nice and hard before next class!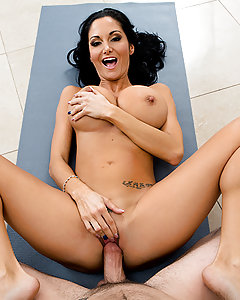 When Ava Addams stopped to pick her daughter up from hot yoga, the last thing she expected was to get fucked. But her daughter's instructor, Tyler Nixon, was just so damn goodlooking that she decided to stay for a quick lesson herself. Tyler got to work releasing some of the tension in Ava's luscious legs and sweet juicy ass, and that made that busty MILF so horny that she whipped out her amazing big tits. He sucked on her perky little nipples and licked her pussy until it was dripping wet, and then they got to the real workout! Ava sucked and fucked Tyler's hard dick until he was ready to blow his load all over her pretty face!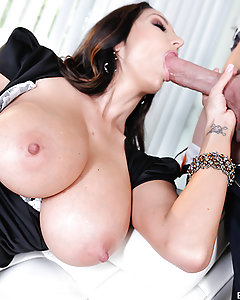 Ava always dreamed of dirty talking like a pornstar, but she just can't seem to find the words. Her therapist encourages her to try and have a little verbal fun. After getting her to relax, Dr. Jones frees Ava's devious side, releasing a stream of the filthiest words he's ever heard. She gets so wet and horny that she takes that thick dick in her hungry mouth, then bends over to get her tight pussy fucked hard the way her inner whore desires. It turns out Ava could dirty talk all along. It was just that her husband was uninspiring, and she needed a real man to unleash her sexual fury.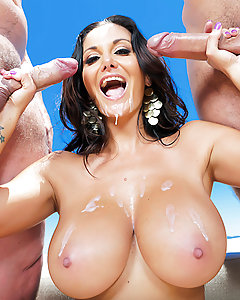 Ava Addams doesn't need an excuse to peel her bikini off and get naked outside in her backyard. Feeling the hot sun on her big, bouncy breasts as she splashes in her pool, and knowing any of her neighbors could be watching her sunbathe outdoors always gets this Milf so turned on. When her fuckbuddy turned up in her backyard ready to bone, Ava jumped on that cock like the greedy nympho she is. After deepthroating all of Keiran Lee's cock, she titfucked him between her massive jugs. Feeling particulary horny, Ava let him split her ass in two with a hard anal fuck. When another guy showed up, Ava opened her sweet holes so these cocksmen could DP her, stretching out her pussy and asshole at the same time.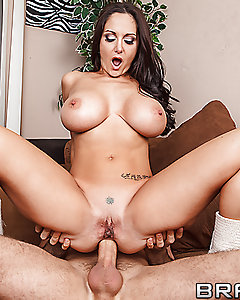 Ava Addams invites James Deen, host of ZZ Home renovation show, to help her husband out with work around the house. James helps Ava with a lot more then just that!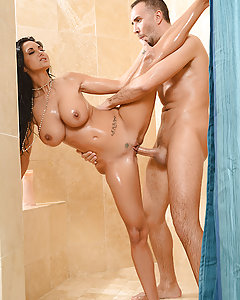 Busty MILF sluts like Ava Addams are too damn horny to live on just one big cock for the rest of their lives, but unfortunately for her husband Bill Bailey, no one ever told him that. So when he comes home from work one day and finds his wife in the shower, he doesn't suspect for a second that she was actually in there with her lover Keiran Lee! Keiran got her big beautiful tits wet and soapy, and pounded her pussy while her husband was right in the other room, never suspecting a thing! Once Keiran had blown his load all over her pretty face, Keiran made his escape while Ava went to find her husband and get another fix of fat cock. Her pussy was already warmed up from her fuck session with Keiran, so as soon as Bill started thrusting, Ava was cumming hard. Only once she had gotten her second load of the day was Ava finally satisfied!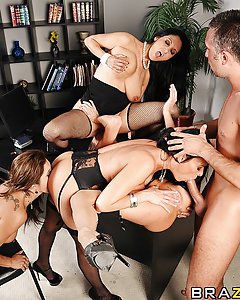 Keiran is hard pressed to find a new assistant...especially after all 4 applicants prove themselves to be equally qualified. The only thing to do is to invite Ava, Francesca, Vanilla and Veronica to one final group interview where each one can prove that they have the best assets for the open position!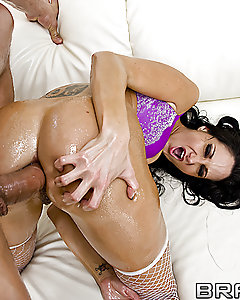 Ava is a brunette bombshell with a magnificently-sculpted ass that's just begging to get fucked in every position. And that's precisely what Ramon proceeds to do.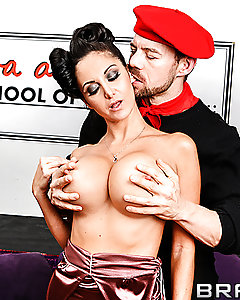 Ava Addams is more than just a pornstar. She used to be a world famous model, apparently, making it big with her stellar runway attitude. Now, however, she lives in Las Vegas and runs a school where would-be models are taught absolutely everything they need to know so they, too, can make it big!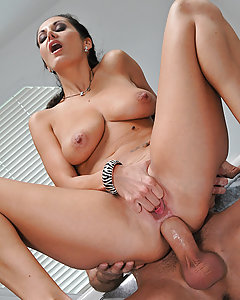 Ava hires James to paint her home. When James gets to work, Ava decides to take a shower and like any horny MILF would do in her situation, she flicks her bean like nobody's business. At some point, James hits the can and catches Ava in mid-masturbatory action. Clearly turned on by what he's seeing, his throbbing cock grows a couple extra inches longer when Ava makes her way towards him and drops to her knees...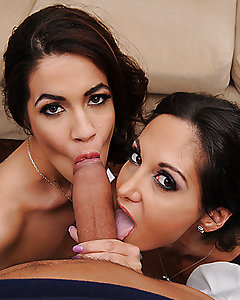 Ava and Isis are both mistakingly sent to the same house to clean. The house in question belongs to Voodoo, a well-hung and well-to-do gentlemen. Needless to say, the maids compete against each other for his attention. Of course, in the end, they learn they didn't have to as Voodoo is a 3-way kind of guy.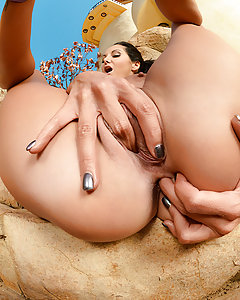 The only thing Ava Addams is missing to turn her beautiful day by the pool into a horny heaven, is a big fat cock to wrap her lips around. And once she's done lubing up every inch of James Deen's thick dick, it'll be going balls deep in her juicy Milf booty. You don't want to miss this little fuck-slut getting pounded hard in this smokin' all-anal bangathon, especially the way Ava's thick booty jiggles every time that cock slides in to the hilt.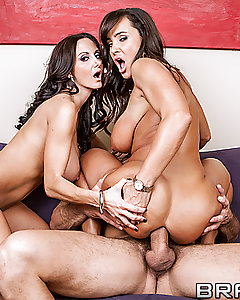 Busty Ms. Ann has just gotten a new shipment of paintings at her art gallery, but shifty Ramon comes in and starts defacing them! Ava, the artist comes to help Lisa confront the little criminal, but when they see his charming smile and big dick, they decide to release their frustration in a much more creative way.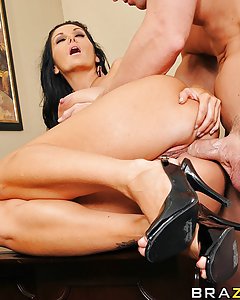 Nicole isn't the sharpest tool in the shed. Lucky for her, her hot and sexy mom Ava is there to back her up. It's time for a job interview, and Ava will do anything to make sure her baby walks away with a new career. And if that means letting Mr. Sins pound her tiny little asshole for the first time ever, then, by god, she'll get down to business.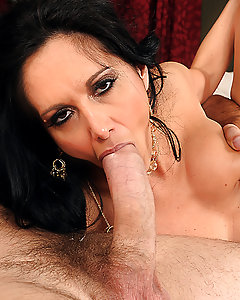 Ava has had it with her cheating, no-good husband Jason, and decides to get her revenge. She enlists the services of Mr. Woodman who sends over Manuel and Keiran to rough her husband up. To add insult to injury, she also has them fuck her in front of him. She takes it in the ass, in her pussy and for the first time ever, in both holes at the same time!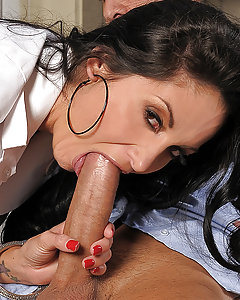 Ava is shaking down Keiran's office. She was called by the company to perform drug tests on the employees. She's heard some stories about Keiran's habits which seem to add up. After all, he forgot when the drug tests were happening. Ava will thoroughly examine him, and then propose mutually beneficial arrangement -- if he makes her happy, she'll make him happy.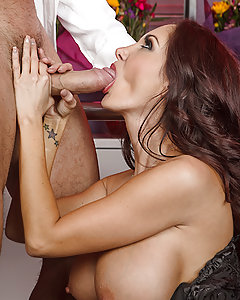 Big-titted mortician Ava Addams has lost a dear friend and fuck buddy. She misses the way he used to plow her, and lets us into her mind as she remembers the kinky and passionate sex they used to have in that very room.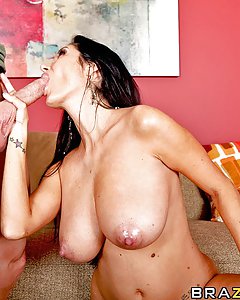 Ava suspects her husband is cheating on her. She gathers the clues and follows her husband to the house of his mistress. Instead of confronting them, she decides to hold off another day and play it cool. But when she returns to the house, the only person home is the mistresses husband Johnny. She makes him aware of the situation and they decide to get even on their spouses.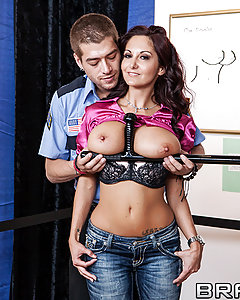 Ava Addams is the hottest teacher in her school, and the go-to chaperone for field trips. One time, she was roaming the art gallery with her students when she happened to wander right into the tantalizing naked portraits of the erotic arts section. The gallery's security guard had a lot to teach this Milf about beauty, form, and how to take a fat cock.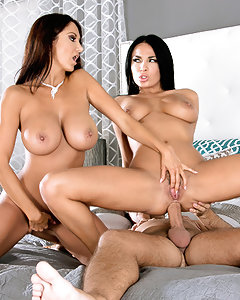 Keiran & Ava have new neighbors, Ms Kate and her hubby. It seems the neighborly thing to do would be to extend an invitation to have them over for dinner, and figure out a way to fuck their brains out!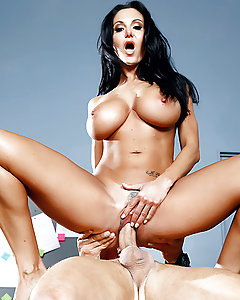 Van Wylde accidentally groped a classmate's tit, and now her boyfriend is looking to kick his ass after school! One of Van's buddies has a plan to keep him in one piece, though: get a detention! Van does his best to get held after class, talking dirty to the teacher, busty MILF Miss Addams, until she dismisses everyone in the class but him. Ava is so turned on by his attitude that she lets him worship her big tits and gives him a nice sloppy face fucking. She bends over one of the classroom desks and Van fucks her wet MILF pussy until her legs are shaking from cumming so hard, and then he unleashes a big facial cumshot all over his teacher's pretty face!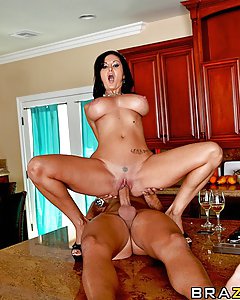 Ava is a smoking hot and very domineering MILF who orders her butler, Keiran, around like a slave. Keiran is subjected to further humiliation when Ava's friends come over and mock him for having a "small cock." When they actually touch it though, they quickly realize he's packing some serious heat. At this point, Ava tells her friends to hit the bricks as she suddenly has a hankering for some raw meat, and Keiran's trouser snake is on the menu!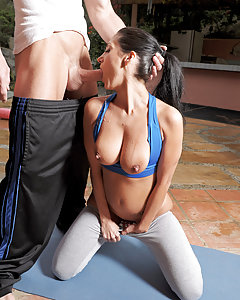 Ava Addams is a nymphomaniac whose life is out of control. She needs some peace of mind and stability. In an effort to stir herself in a positive direction, she takes a friend's suggestion to try out with yoga. But even after some good stretching and meditation, Ava can't stop to think about cocks. She is a real slut especially in her fantasies.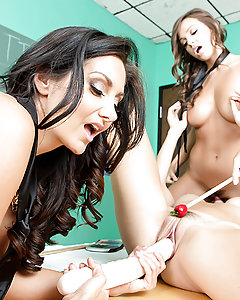 Ava Addams is on detention duty at ZZ Private Academy for Slutty Schoolgirls, and she's had just about enough of the disrespectful little whores' back-talk. So when Abigail Mac tries to give her some sass, Ava whips out a dildo and fucks Abigail's pretty mouth with it! Ryan Ryans, Abigail's bff, tries to stick up for her slutty friend, so Ava bends her over the desk and spanks her tight ass. The little sluts give as good as they get, fucking and licking Ava's tight pussy until she cums hard, and then trading places so they can cum too! And just like that, the two brattiest sluts in school go straight to the top of the class!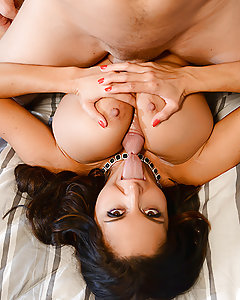 Ava and her hubby Bill Bailey went out for a night on the town, and when they got home they were both horny as hell and ready to fuck. They started fooling around on the couch when Ava excused herself to slip on some sexy lingerie, but imagine her surprise when she sees her lover Mick Blue waiting for her in her bedroom! She gives Mick a blowjob before returning to her husband Bill, who plows her tight MILF pussy and then jizzes on her big tits! After that it's Mick's turn, and he goes to town on Ava's sexy body, fucking her tits, her mouth, and her pussy, and then giving her a nice big facial cumshot. There's no such thing as too much cock for a slutty cougar like Ava Addams!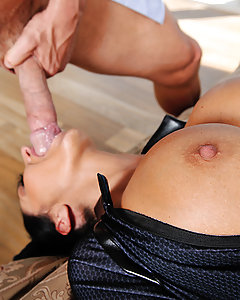 After getting fired by her bitch boss, busty maid Ava Addams snuck up to the bedroom and started looking for something she could grab to make up for what they owed her. She tried on some jewelry, and then slipped out of her maid outfit into a kinky little cat costume she found in the bitch's closet. When Johnny walked in on her, though, she decided she'd rather have his big cock than some dumb old jewelry anyway! One look at her gorgeous big tits and Johnny had to have her. He fucked her mouth, her tits, and her pretty pink pussy, and then blew a big load all over face and tits!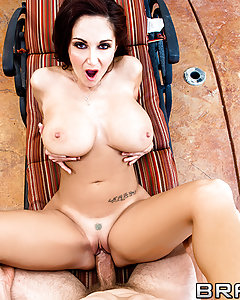 Uh Oh! Ava Addams bumped Erik's car, and he wants compensation for the damages. When he heads to her new place to discuss terms, he finds her sunbathing in back with barely anything covering up her huge boobs. Ava twists her angry visitor around her little finger, knowing he'd much rather let a few bucks go, than give up the chance to do whatever he wants to her pussy.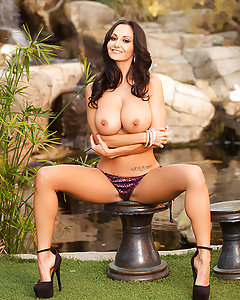 Xander Corvus fixes pools for a living, and Ava Addams is the busty MILF he's been sent to help out. Luckily for him, though, she's more interested in his big dick than his skills as a contractor! Ava takes out her glorious big tits and Xander sucks and fucks those massive melons, titty fucking her and then eating her pussy until she's dripping wet. He fucks that big-titted slut and then blows a big cumshot all over her pretty face and big tits!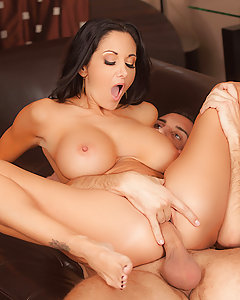 Keiran was headed over to his buddy's house to fix the TV, and when no one answered the door, he let himself in. Much to his surprise, he was greeted by the sound of his buddy's wife Ava Addams moaning with pleasure as she rubbed her pussy! Keiran tried to lay low, but it didn't take long for Ava to find out he was there. Already horny from her little masturbation session, she busted out her big tits so Keiran could worship them. He buried his face in those titties and then ate her wet pussy. Once she was dripping wet, Keiran pounded her tight MILF twat and then blew a big load all over her pretty face!