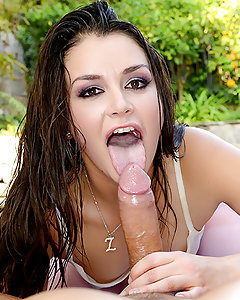 A big booty like Allie Haze's doesn't need any help grabbing your attention, but you can't go wrong hosing down the cheeks with oil until they shine! Spend a hot day with Allie Haze as she lets you get up close and personal in her big butt, as she peels down her stockings to show you the sweet spot between her legs. By the time Mick showed up to tap that ass, Allie's pussy was wet, and she was ready to have her "nearly virgin" ass nailed. Before her ass was fucked raw, watch how Allie gagged and throatfucked Mick's boner, then pressed her feet together to give his penis an oily footjob.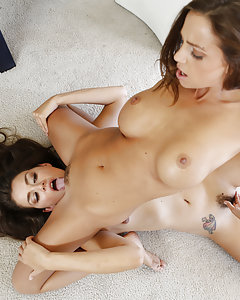 Abigail realizes that a hidden attraction for her step sister, Allie may be the reason why none of her relationships with men have worked out.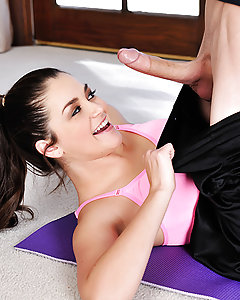 Allie Haze had a workout scheduled with her yoga instructor Chris, but as she bounced on her workout ball with all her tight yoga gear on, she was too damn horny to concentrate! She started rubbing her clit and was half way to cumming when Chris got there and spoiled her fun by insisting they work out for real. Allie still needed to cum, so she made him a deal: for every rep she did, she was allowed one taste of his cock. Allie really pushed it to get a piece of that fat dick, showing off how hard she's been working on her deepthroating skills, and then spreading her long legs to take it deep in her tight pussy!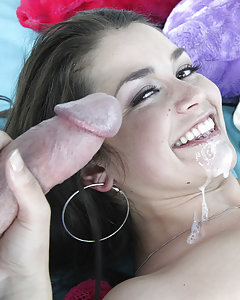 Super cute Allie Haze has been waiting for some good ass play and hard dick inside her. Allie showed off her juicy ass and had us craving to dig inside her tight pussy. We never knew how good of a view it was watching her juicy booty ride up and down on our pole getting us to blast massive loads.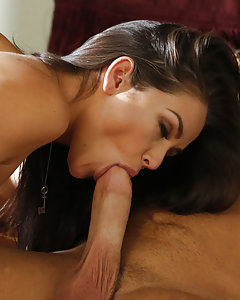 Football player Josh Rochette(Chad White) enjoys a morning romp with college girlfriend(Allie Haze), after she stands in front of the mirror measuring her young hot body He gets her on the bed and spreads her wide for for a hard cock and hot cum across her belly.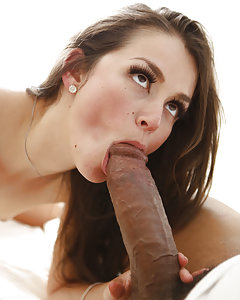 Shane's cock was extra hard and extra throbbing knowing Allie Haze was naked and ready to fuck. She wrapped her hot lips around all those massive inches and sucked it as deep as her throat could take. Shane spread her legs wide and stuffed that hot pussy tight with black dick and pounded her tiny pink slit with pole muscle. Allie was so over fucked she needed some of Shane's huge cock juice to quench her thirst.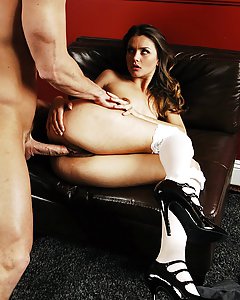 Allie Haze has been on the hunt for a serial masturbator. This guy has been leaving huge loads of cum everywhere he goes. She can only imagine how big his cock must be to produce so much semen. She'll risk her job, her partners trust, and her safety just to find this lunatic. But what will she do when she finally tracks him down?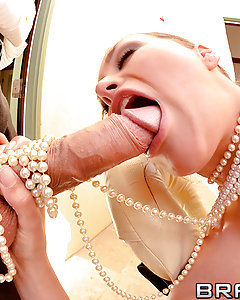 No one warned Mick during his butler training that he might end up with a rich bitch like Allie Haze. She's always riding him all day long with requests and orders. So when she asked for a massage one day, he saw a great chance to turn the tables on that posh princess. Rubbing a little oil on her body got Allie's pussy so wet, she begged him to climb on the table and finish the job with the fuck she was craving. He stuffed her pussy full of her pearl necklace, and teased her clit with exotic sensations. Once she was worked into a frenzy, Mick pounded that juicy pussy until he'd fucked Allie to the big finish.